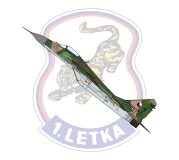 Tiger Fulcrum
Prod.No.: 44007 (on sale from: 2012-12-01)
Scale: 1/144
Price: 45.00 Kč / 1.77 EUR
MiG-29A 7702 (s/n 2960526377) was one of 20 MiG-29s delivered to the Czechoslovakia between 1989 a 1990 (18 MiG-29A, 2 MiG-29UB). The aircraft was assigned to the 1st Squadron of the 11th Air Fighter Regiment (later also called the "Tiger Squadron") at Žatec AFB. It was one of the 6 MiG-29s delivered to Czechoslovakia capable of carrying RN-40 nuclear bomb. After the break-up of Czechoslovakia on December 31st 1992 the contingent of MiG-29s was split equally and the newly established Czech Republic and Slovakia both received 9 MiG-29As and 1 MiG-29UB. The 7702 served with the 11th AFR until October 1993 when all its MiGs were transferred to the 1st Air Fighter Regiment, České Budějovice AFB. During 1994 it was decided to decomission all the MiG-29s and offer them for sale. In December 1995 the Czech Republic signed the deal with Poland and exchanged 10 MiG-29s for 11 new W-3A Sokol helicopters (one of the most politically controversial deals of the 1990s in the Czech Republic).
In Polish Air Force the aircraft was assigned the bort number 77 and later was one of the Polish MiG-29s that guarded the airspace of Estonia, Latvia and Lithuania for 3 months during Poland's turn in NATO Baltic Air Policing mission in 2005.
The set contains screen printed decals for MiG-29 model kit by Revell or Academy.