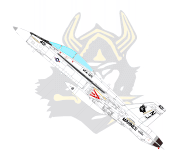 Ghost Hornet
Prod.No.: 44011 (on sale from: 2012-12-31)
Scale: 1/144
Price: 45.00 Kč / 1.77 EUR
November 2014 - reissue of the decal set, now with screen printed decals.
Strike Fighter Squadron 125, the "Rough Raiders", was United States Navy Fleet Replacement Squadron based at NAS Lemoore, California. Established on 13 November 1980, the squadron became the first US Navy squadron flying the newly commisioned F/A-18 Hornet. Rough Raiders trained F/A-18 pilots for both the Navy and Marine Corps (hence the Navy sign on one side of their aircraft and Marines on the other side). On 1 October 2010, VFA-125 was disestablished as an F/A-18 Fleet Replacement Squadron and all it's assets were incorporated into VFA-122, the "Flying Eagles". Currently it is planned that VFA-125 will later be reestablished as an F-35 training squadron.
The F/A-18B Hornet BuNo 162885 initially served with U.S. Naval Test Pilot School at NAS Patuxent River. It was transferred to the VFA-125 in late 2008 or early 2009. Its history with USNTPS (and the paint scheme used there) may be the reason for its unusual whole-white paint scheme. The decals depicts the aircraft in its form from late 2009.