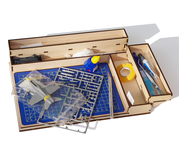 Traveller Workbench Kit
Prod.No.: 999001 (on sale from: 2016-09-29)
Price: 500.00 Kč / 20.00 EUR
Portable workbench kit. Parts are laser cut from plywood. When assembled the size of the workbench is approx. 21cm x 29.7cm. Contains slot for A5-sized cutting mat (the mat itself is not included in the kit). The kit is designed as universal and can be assembled with the side trays on the right or left side. The lid can be used as an extension of the workbench area.
Use PVA or super glue to fixate the parts during assembly.
This product is manufactured in batches. Once all the items from the current batch are sold, the product is marked as sold-out and manufacturing of another batch starts. After the new batch is finished, the product will be in stock again. If you are interested in getting one and it is currently sold out, please contact us using e-mail or Facebook message.