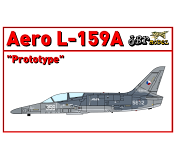 L-159A "Prototype"
Prod.No.: 5 (on sale from: 2018-10-08)
Scale: 1/144
Price: 230.00 Kč / 10.50 EUR
Limited edition of 100 pieces. Contains Miniwing plastic parts, PE fret with details and resin Plamen canon pod with fuselage pylon. Decals for Aero Vodochody L-159A prototype used for testing and avionics and weaponry integration.