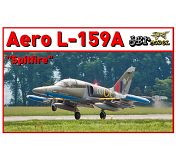 L-159A "Spitfire"
Prod.No.: 6 (on sale from: 2018-10-08)
Scale: 1/144
Price: 230.00 Kč / 10.50 EUR
Limited edition of 100 pieces. Contains Miniwing plastic parts, PE fret with details and resin Plamen canon pod with fuselage pylon. Decals for L-159A no. 6053 of the 212th Tactical Squadron, Czech Air Force. The aircraft is painted in RAF Spitfire camouflage colors to commemorate the patron of the squadron, Czech WWII ace general František Peřina.